By Wrote By Jakub Han |
31
July 2021 |
0
Comments
DigitalFoto CLIMBER Matte Boxes Announced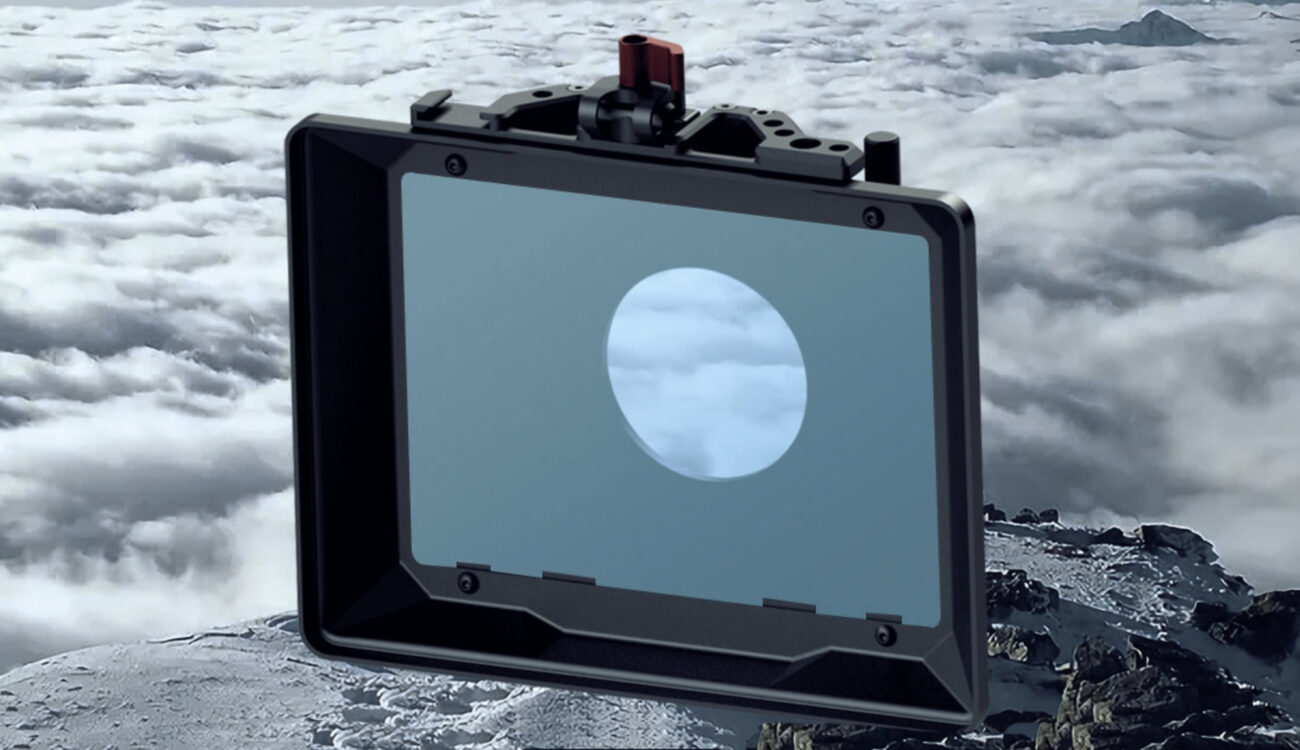 DigitalFoto CLIMBER matte box comes in two sizes – for 114mm cine lenses and for smaller cine and photo lenses below 95mm diameter (five adapters between 82 and 62mm are included). It has a carbon fiber top flag, threads and cold shoe for optional accessories, and a lightweight design. The matte box is priced at $90 and $95 respectively.
The Chinese company
DigitalFoto
focuses on affordable accessories for filmmakers. We have recently seen some pocket-sized LED lights from the company such as the
DigitalFoto YY100
or the
W64RGB
and also a universal ring grip for gimbals –
DigitalFoto Magic RING II
. Now the company launches new products from the CLIMBER line – a matte box and a compact follow focus. This article only focuses on the matte box, for the follow focus, follow this link to our separate article.

The CLIMBER matte box supports both standard 4×4″ and 4×5.65″ filters with 2mm or 4mm thickness. It has a 180° rotatable carbon fiber top flag and the total weight of the matte box (without filters) is 245g. The matte box comes in two sizes:
CLIMBER-114 is designed for cine lenses with 114mm front diameter.
CLIMBER-95 can accommodate smaller cine lenses and photo lenses with a front diameter of 95mm or smaller as there are five adapters included in the package – 82-77mm, 72-77mm, 95-77mm, 67-77mm, and 62-77mm. Additional adapters can be purchased separately – 40.5-77mm, 49-77mm, 52-77mm, 55-77mm, 58-77mm, 60-77mm, and 86-77mm.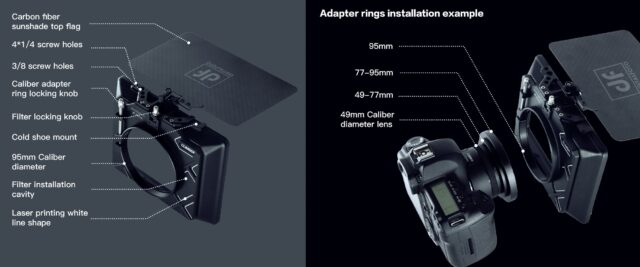 There is a cold shoe mount on top of the matte box as well as a caliber adapter and filter locking knobs. Additionally, there are four 1/4″ threads and one 3/8″ thread for extra accessories. The matte box is made out of aerospace aluminum and carbon fiber and according to DigitalFoto, it is quite durable. The total size of the matte box is 186x170x42mm.
Price and availability
Both models are available now for purchase.
The DigitalFoto CLIMBER-114 costs $90
and the
CLIMBER-95 costs $95
. Each additional filter ring costs $6.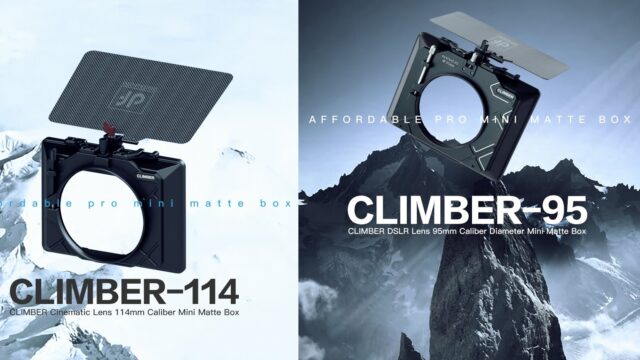 CLIMBER Matte Box. Source: DigitalFoto

Do you use a matte box for your work? What do you think about the DigitalFoto CLIMBER matte box? Let us know in the comments section underneath the article.
Leave a Reply
Your email address will not be published.Required fields are marked. *